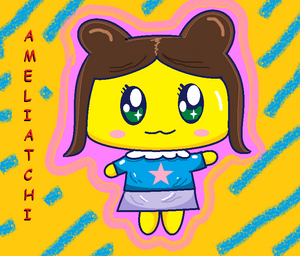 Ameliatchi is a fanmade female Tamagotchi character, set to release in Tamagotchi the Movie: Legendary Melody and Tamagotchi iD L Ultimate Version.
Appearance
Edit
Ameliatchi's appearance is similar to Mametchi's. She has yellow fur and Mamesian ears, and long brown hair. She likes to wear fashionable shirts.
Personality
Edit
Ameliatchi is generally good-natured, but when someone offends her, she can get very angry. That is why it is best to be nice to her. Her personality can probably be explained by her unfair past.