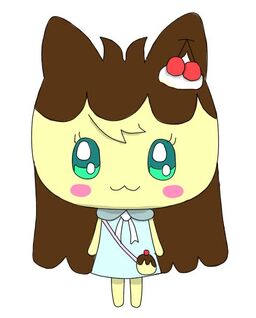 Purintchi (プリンっち) is a female character from Tamagotchi. She has not been on any tamagotchi release yet.                                                                                                                                                                         
Personality
Edit
Purintchi is a shy, friendly and likes to help out. She very like to play her tamborine, draw, listen to music and sweet food (especially pudding).
Appearance
Edit
Purintchi is a cat. She wear a blue dress, white scarf and a pudding-shaped bag. Her skin is cream-coloured. She has a cherry and cream on her left ear. Her eyes color is jade and blue lagoon.
Name Origin
Edit
​Purin (プリン) translates to pudding