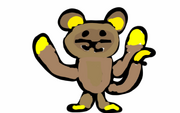 Risunokitsunetchi (松鼠狐狸牛逼志) is a male adult tamagotchi charater from tamagotchi animal friends (english version),tamagotchi 6U and 6U+ (japanese version) and tamagotchi V1-V5 (Chinese edition).He was not been on any tamagotchi realese yet.
Apearence
Edit
He is the 1st Tamagotchi featured in Chinese.He is a squrriel like fox tamagotchi.
Personanlity
Edit
He was born in the tamagotchi jungle.But He featured only in tamagotchi featured in colour because, people like all tamagotchi to be featured in coloured more than black and white.He love rice,cookie,candy and soba.His favourite toys are elephant soft toy.He loves to wear a king's crown and princess dress.
-He is the 1st tamagotchi will featured in english,chinese and japanese versions.