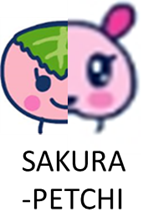 SakuraPetchi is a fan-made Tamagotchi character created by Kaumi.
Appearance
Edit
On her left side, she has light pink skin with a small eye, coloured black, with a small lash, and she has a large pink cheek. She has 75% of a green "sakura" leaf with a light coloured pattern on it. She has one short, thin leg. On her right side, her skin is still light pink. She has one very large eye. It has one large white shadow on it, and one small one in the corner. Her eye lash is even smaller. Her body doesn't quite link up at the bottom, since on the left it is a perfect oval, whilst on the right, she justa sorta kinda resembles half a heart turned upside down. She, on the top of her body on the right side, has a semi-long, thick antenna which may be her ear. She has a very small mouth on this side. Her main mouth is on her left side. She has an oval shaped cheek which is even lighter and bigger than that on her left side. Her leg is more bent than the one on her left side.
Personality
Edit
She is usually smart, but there are times when she forgets this, and when she does, she can act stubborn and immature, and can be reckless. She is very shy but sweet. When she has problems coping with her body not linked up, she can link them up by using anything to link up her body properly. She works very very hard to make sure she is well cared for. This includes cleaning herself every few hours and doing anything that will prevent her from getting harmed. However, she is not very efficient and doesn't know how to think for herself, so she needs someone to think for her sometimes. She can own up to anything but she can't cope with problems by herself.
Name Origin
Edit
The name "SakuraPetchi" comes from:
Sakuramotchi, a female child character whom which her left side resembles.
Memepetchi, another female child character whom which her right side resembles.