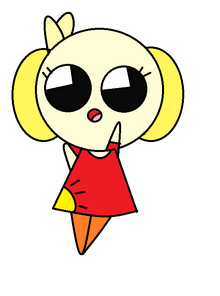 Sansantchi is a female character from Tamagotchi Jewel.
Personality
Edit
Sansantchi is a very sweet, naive, and sensitive girl who likes nice people. She is an orphan, living with Floratchi's aunt. She is very sensitive, many times being bullied by girls who think she is small and a servant. Even though she is shy, she opens up to nice people. Like Floratchi, she likes romance and being in love.
Sansantchi's parents died when she was young, so she became an orphan. One day, Floratchi's aunt was walking on the street when Sansantchi was tired and wanted food.
more coming soon...