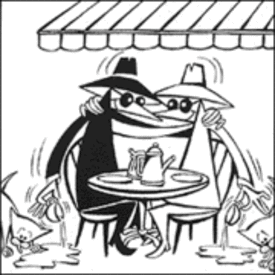 Spy vs Spy is a Black and white comic strip that deduted in Mad magazine #60, dated January 1961, and was originally published by EC Comics. The strip was created by Antonio Prohías.
The Spy vs. Spy characters have featured in media such as animated television series, merchandise such as action figures andtrading cards, and video games.
Tamagotchi series
Edit
The White and Black makes a appearance on the Lets fight 1 on the opening. They can by trolling by Hacker the White Spy using Loana's Moves and Black Spy using Lilytchi's moves.